Meet Hemmersbach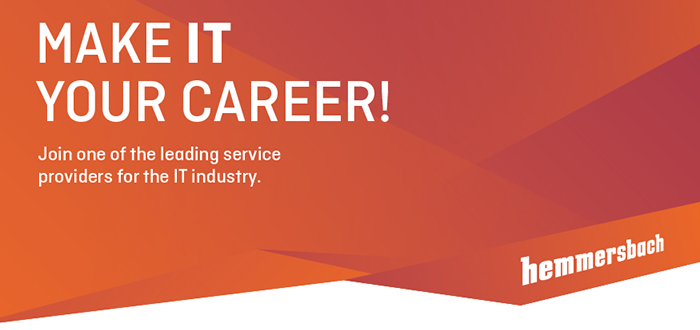 We empower Device as a Service everywhere.

With over 4,000 permanent colleagues in more than 40 subsidiaries worldwide, we enable Device as a Service in 190+ countries. We empower IT industry leaders to offer Device as a Service (DaaS) globally. DaaS combines hardware, software, lifecycle services and financing with a single contract and fee per device.

We at Hemmersbach live open communication, team spirit and flat hierarchies. We go the extra mile to enthuse our customers. We are one of the fastest growing companies in the IT industry.
Company Structure
We are proud of our flat structure in which everyone is welcome to share their ideas and improvement suggestions. Open communication is one of our core principles which is why we think of ourselves more like a friendly workplace rather than a corporation.

We value our employees' ideas. All improvement ideas which are logged by our colleagues and implemented by us are rewarded. It means that you can actively contribute to improving your workplace!


Additionally, you can recommend us as an employer to your friends and family. If we hire them, you will receive a reward as well.

Hemmersbach in numbers
4000+ Permanent employees worldwide

40 Subsidiaries

190 Countries




New Experience, Big Opportunities!
What sets us apart from other employers is the fact that you, as a newly hired employee, assume responsibilities very quickly. We believe that practice makes perfect which is why you learn on the job from the very beginning. Our tailor-made buddy programme will make it easy for you to settle in and develop your career in the direction you want it to go.

We take care that our employees speak English well; therefore, good English is a must. We created a bespoke trainee programme, which helps in finding future leaders in various areas including Project Management, Finance & Controlling, Supply Chain Management, Power BI & Data Management, and HR. More importantly, if you know your strengths, we will give you a chance to develop them in a professional setting.

Apply today!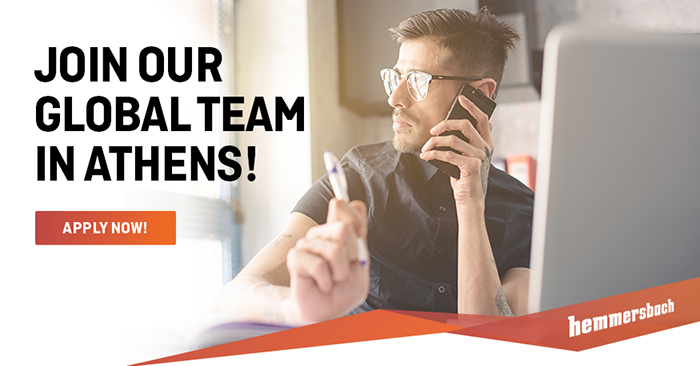 Contact Information
Address : 97, Vasilissis Sofias Avenue, 115 21, Athens, Greece
Telephone : +302111983442
Web address : www.hemmersbach.com
E-mail : HR.Greece@hemmersbach.com   

Should your experience and qualifications not apply to the current job openings, you are welcome to send us a proactive application!